Builders' merchants are the backbone of the construction industry and with the upturn of the house building market in particular, building materials are in high demand. Here Tim Streeton, Senior Technical Services Engineer at Marley Alutec explains why installers are chasing the benefits of aluminium products in rainwater systems and how merchants can use these to easily upsell.
It is ever more important for our buildings to be sustainable and efficient whilst being resilient enough to be able to accommodate the increasing demands of a changing climate. An effective rainwater system is integral to protecting building fabric, directing water from rain and snow from a building's roof and away from its exterior and foundations.
Installers are being called upon to carry out costly remedial works to building fabric damaged by rainwater and other climate events, involving significant capital outlay for building owners which makes for unhappy clients. It is therefore in the interests of building merchants to be able to provide sound advice on the best rainwater solutions available, from selecting the optimum materials, to ease of product installation and maintenance, and even guidance on colours and finishes to help fulfil the aesthetic brief of any construction project.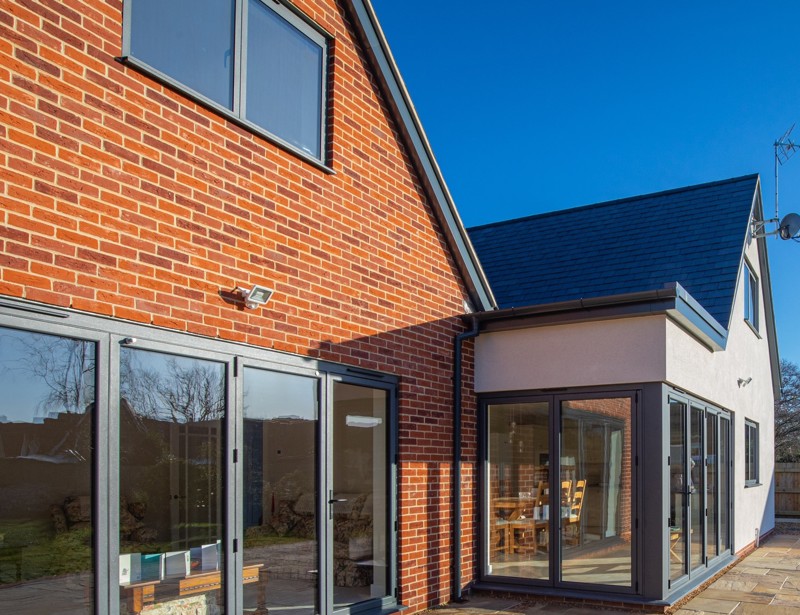 Why aluminium?
Essentially, the most sustainable, durable and high-performance rainwater systems on the market are made from aluminium. 65% lighter than steel or cast iron - the key components of traditional rainwater systems - aluminium's strength to weight ratio makes it easy to handle and install. It has the longevity of cast iron without the corrosivity and regular maintenance requirements.
However, not all aluminium is created equal. Rainwater systems are continuously exposed to the elements and if low quality aluminium is used, it will eventually corrode. This is why building merchants should be recommending the most innovative marine-grade aluminium systems that are currently on the market which incorporate a naturally occurring protective oxide layer that prevents corrosion, without the need for treatment or repainting.
These systems not only require minimal maintenance but can have a functional life expectancy of more than 50 years. If the marine-grade aluminium becomes damaged, the oxide layer reforms to provide continuous protection.
Aluminium versus PVC
PVC is another material commonly used in traditional rainwater systems. Affordable and lightweight, its ability to 'snap together' at the joints works to streamline the installation process. However, the downside is that it can become brittle and prone to cracking, which ends up increasing costs and maintenance requirements in the long term.
Marine-grade aluminium is just as easy as PVC to handle and install but it is much more durable. 'Snap fit' solutions are available for quick and simple jointing, along with aluminium composite fascias and soffits, providing a stable backing for gutters to be secured.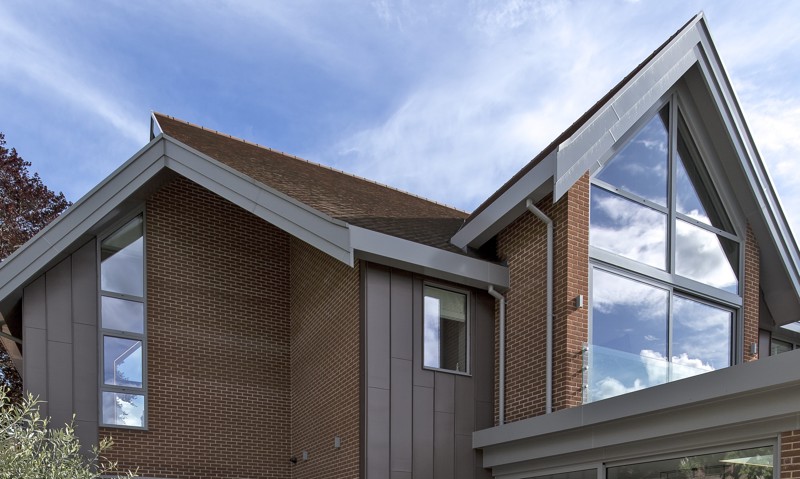 But is it sustainable?
Whilst cast-iron and PVC solutions are able to be recycled, the quality of the materials is compromised during the process. Aluminium, on the other hand, can be recycled indefinitely with no detrimental impact on its quality or other outstanding properties, making it one of the most sustainable building materials available.
Moreover, only 5% of the energy is needed for remelting compared to that of primary aluminium production. It is estimated that 75% of all aluminium ever produced is still in use today. With energy efficiency and sustainability being more important than ever in the construction sector, installers and developers will be looking for systems that can be fully recycled at the end of their usable lifespan.
Does aluminium look as good as it works?
Given their visual prominence, rainwater systems should ideally blend seamlessly with the aesthetics of a building. There are a wide range of colour options and finishes available for most aluminium systems. Manufacturers can provide colour plates on request, making it easier to demonstrate the exact finish of specific products. Some are even available with a textured surface to replicate the appearance of cast iron if that is the desired aesthetic.
For customers that are looking to effectively maintain the colour and gloss of their aluminium guttering systems, architectural-grade polyester powder coating (PPC) paint offers unrivalled colour stability and colour retention.
Too many choices? Ask the experts!
Designing and installing rainwater systems can be a convoluted process with the myriad options available. Leading manufacturers such as Marley Alutec are on hand to offer building merchants and installers expert guidance, technical support and even site visits to assist with water run-off calculations, system selection and other practical advice.
Not only will clients benefit from a product that meets and exceeds all performance and aesthetic requirements, there is the added bonus of the manufacturer's technical insight providing extra confidence that the most appropriate and highest-quality rainwater system has been specified.
For any assistance with your projects, please email us at projects@marleyalutec.co.uk or call 01234 359438.