Here Tim Streeton, our Technical Services Engineer, explores gutter capacity, material combination, durability and sustainability; all of which can have a significant impact on the long-term success of an eaves drainage system.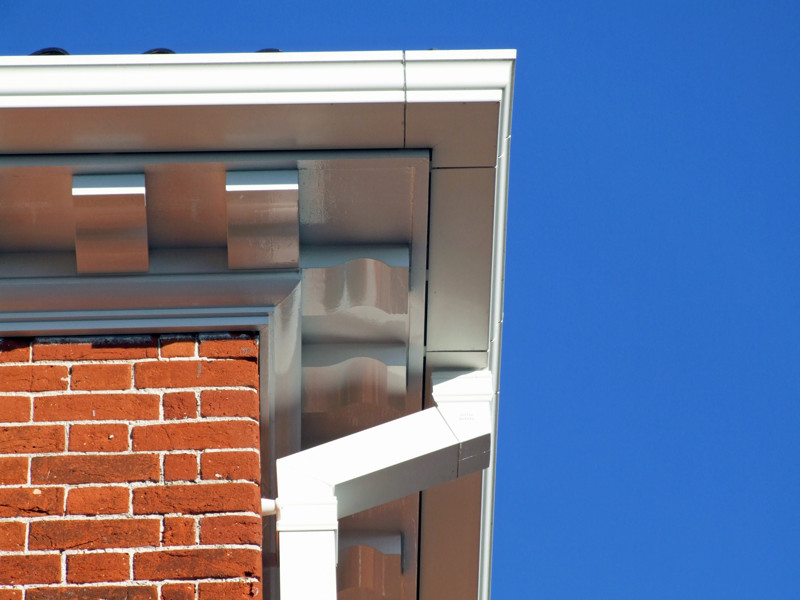 1) Gutter Capacity
The required capacity will vary depending on the rainfall intensity of your location, the roof area and its slope. However, it is also worthwhile considering the design of the intended system and how this could impact performance. For example, rainwater systems are often designed level to improve a building's appearance, but by doing so the potential flow rate of the complete system is reduced.
Alternatively, if the system has been designed with end downpipes to create a symmetrical appearance, this can increase the capacity of the system. Therefore, it is important to keep the impact of the design – along with rainfall intensity, roof area and slope – in mind to ensure capacity has been appropriately addressed.
In order to help you choose the correct system we have created handy calculators that simplify the process of working out the correct gutter size based on expected capacity.
2) Material Combinations
There are three primary materials to consider when choosing eaves drainage: PVC, cast iron and aluminium. Each of these has different advantages and lifespans but care should be taken when combining any of these options with other materials.
For example, if a cast iron or aluminium eaves drainage system is installed on a timber fascia it is highly likely that the guttering will outlast the fascia. This means that any system installed will have to withstand being removed and replaced onto new fascia boards. As such, it is best to select material combinations that either have similar lifespans or required levels of maintenance – such as marine grade aluminium guttering with an aluminium fascia. This will help to reduce overall maintenance requirements as well as the risk that the rainwater system could be damaged in the process.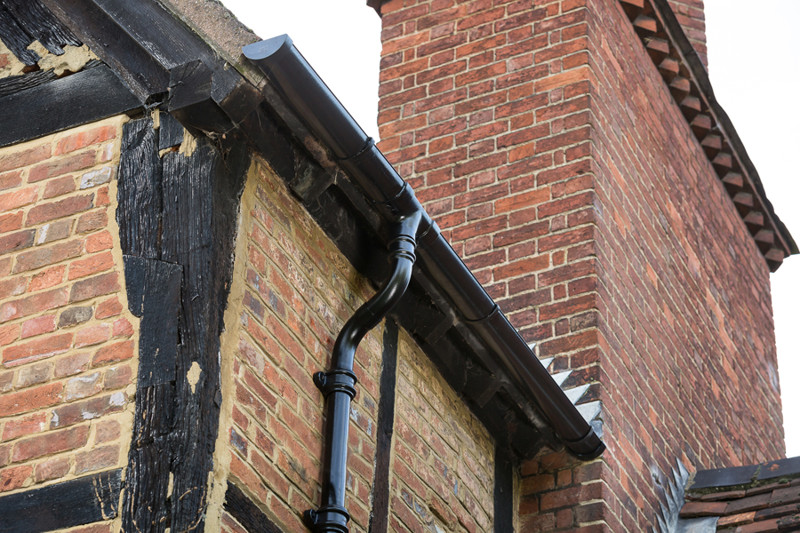 3) Durability
This is a primary concern when selecting eaves drainage systems due to the exposed position on the building and its inaccessible location, which makes maintenance difficult.
PVC guttering has a fairly short lifespan of only 20 years and cheap systems can be prone to cracking or warping in extreme weather conditions. Cast iron has a much longer lifespan in theory. However, in practice it needs regular repainting in order to keep rust at bay. This can be very labour intensive, especially on large properties.
The significant advantage of a marine grade aluminium eaves drainage system is the level of corrosion resistance throughout its lifetime. With high-quality aluminium, the naturally occurring and protective oxide layer will be retained and reform, even after sustaining surface damage. This is handy for eaves systems where falling branches, roof tiles or debris can easily knock the rainwater system. Marley Alutec guttering systems – which are made entirely from marine grade aluminium - have a functional life expectancy of 50 years or more.
4) Sustainability
The long-term sustainability of a project is an increasingly important factor and there is added pressure being placed on construction companies to consider how materials can be recycled at the end of a project's life. With waste being a huge part of lowering environmental impact, the rate of landfill tax is increasing year on year. As a result, working in a more sustainable manner can be beneficial to the bottom line as well.
Aluminium systems have the advantage of being widely recycled: 75% of all aluminium produced since 1888 is still in use today, that's equivalent to 1.5 billion tonnes of recycled aluminium still in circulation¹. Furthermore, because it is widely known to be recycled, aluminium has a very high collection rate from building sites at the end of a structures life. Approximately 85% is recycled from building sites² and in total 30 million tonnes of aluminium is recycled every year; saving 90 million tonnes of CO2 from being released into the atmosphere annually³.
So, when it comes to specifying an eaves drainage system – it is incredibly important to address all four factors. A failure to consider gutter capacity, material combinations, durability and sustainability could lead to unexpected maintenance issues or the system failing to perform as expected.