Marley Alutec Chirstmas Shutdown 2018
Believe it or not, the Christmas holidays are fast approaching and we would like to inform our customers of our scheduled shutdown over the festive period. We will be closing from Friday 21st December and reopen, normal business hours on Wednesday 2nd January 2019.
For our delivery schedule before Christmas, please click on the image below: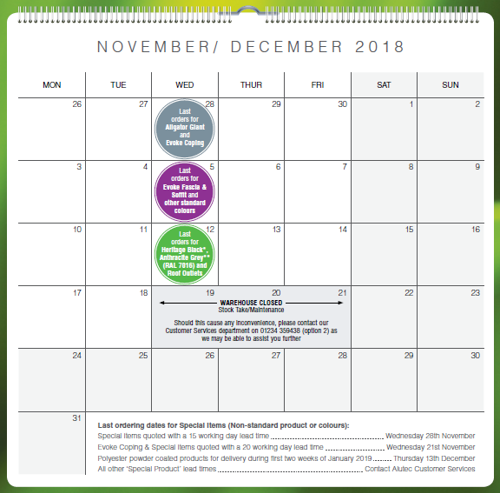 Should these timings cause any inconvenience, please contact our Customer Services department on 01234 359438 (option 2) as we may be able to assist you further.
We would like to take this opportunity to wish you a very Merry Christmas and a Happy New year from all of the team at Marley Alutec.
Keep up-to-date with upcoming Alutec news in 2019 by connecting with us via LinkedIn, Twitter or Facebook!